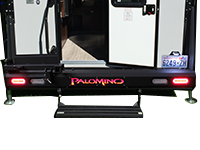 The Dura-Trak truck camper bumper is engineered and designed exclusively for Palomino by Torklift International. A lightweight, non-storage bumper, the Dura-Trak is designed to be visually aggressive and features a backlit Palomino logo making it look like the bumper is on "fire" when lit up.
With a 36-inch wide by 8-inch deep swing-up step that doubles as a bench, this bumper makes it easy to get in and out of your truck camper improving safety and stability. The step also easily stores on the bumper, not effecting your ground clearance while driving. If you want steps that go all the way to the ground, the bumper is also compatible with the Torklift GlowSteps with no drilling required for the installation. The Dura-Trak also has a mounting hole that incorporates an accessory mount to accommodate an optional swing out arm that can carry barbecues, tool boxes, spare tires and generator trays.
Another additional feature of this Palomino bumper is that it's designed to work with both pop-up and hard side Palomino campers. Made of aluminum with stainless steel hardware, this bumper has a lighter weight but doesn't compromise on strength.
Palomino Dura-Trak Bumper In Action
Palomino Dura-Trak Bumper Features
LED recessed lighting for a sleek looking bumper
36" wide swing-up step that doubles as a bench and glows in the dark
Two lengths available for the Palomino Bumper – 83 ½" and 92 ¼"
Step easily swings up and stores on bumper, not effecting your ground clearance while driving (can be locked)
Bolt-on installation, no drilling into your camper
Provides a specially designed license plate bracket that lights up for nighttime driving
Powder coated in an anti-skid black matte for added traction
Made of aircraft grade aluminum with stainless steel hardware for a lighter weight bumper
Compatible with a specially designed Space Dock swing arm that is available through Palomino to hold accessories like a generator, BBQ and more
Proudly made in the USA
Palomino Bumper Swing Arm includes
Mounts to the Palomino Dura-Trak Bumpers B7523 and B7524 as an additional accessory receiver
Fits any 2" receiver mounted accessories
Easy, no-drill installation directly onto the Palomino Bumper
Receiver adapter max capacity rating of 150 pounds tongue weight
High impact powder coated steel for durability
Easily swings out for accessory use and swings in while in transit or off-roading
Legendary Lifetime Warranty
Proudly made in the USA
Find Your Part Number