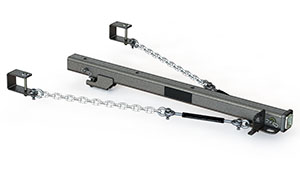 The Cannon is the only extension manufactured specifically for 2017-2019 Super Duty Ford trucks with the all-new 3-inch factory receiver and is perfect for a truck camper or anything else that creates overhang or the need for an extension. The Cannon utilizes the SuperTruss patented lateral support safety chains and an all new built-in set bolt system that prevents extension and receiver movement while towing. Lengths for this receiver extension are 36", 42" and 48". Rated to tow up to 7,200* lbs and 720 lbs tongue weight. Legendary Lifetime Warranty included and made in the USA.
The Torklift Cannon Hitch Extension is the solution to your towing problems. Made specifically to work with Ford Super Duty featuring the all-new factory 3-inch receiver opening, the Cannon gives you the ability to safely tow with the confidence that Torklift has your back.
The Cannon extension is available in 36-inch, 42-inch and 48-inch lengths. The Cannon is the perfect companion for all your towing needs.
The Cannon extension achieves high tow ratings thanks to its internal reinforcement. Compatible with single receiver hitches featuring a 3-inch receiver opening, the Cannon can achieve weights ranging from 3,000 to 7,200 pounds*
E1636 Weight Carry
3600 lbs maximum pull weight
360 lbs maximum tongue weight
E1636 Weight Distribution
7200 lbs maximum pull weight
720 lbs maximum tongue weight.
E1642 Weight Carry
3300 lbs maximum pull weight
330 lbs maximum tongue weight
E1642 Weight Distribution
6600 lbs maximum pull weight
660 lbs maximum tongue weight
E1648 Weight Carry
3000 lbs maximum pull weight
300 lbs maximum tongue weight
E1648 Weight Distribution
6000 lbs maximum pull weight
600 lbs maximum tongue weight
The Cannon extension is specially designed for the all new Ford Super Duty 3-inch receiver. If you are looking to tow heavier items than the Cannon is rated to, make sure you check out the World's strongest hitch and extension combination. The SuperHitch and SuperTruss can achieve 14,000 pounds with weight distribution, nearly doubling the Cannon. For more information on the SuperHitch and SuperTruss, click here.
Cannon Hitch Extension in Action
Cannon Hitch Extension Features
Available in three lengths from 36" to 48"
Internally reinforced
Hardened reinforced hitch pin locations
Uses patented, lateral-support safety chains
Compatible with 2" and 2-1/2" ball mounts
Includes safety chains
Legendary Lifetime Warranty
Proudly made in the USA
*Weight ratings dependent on length of extension.