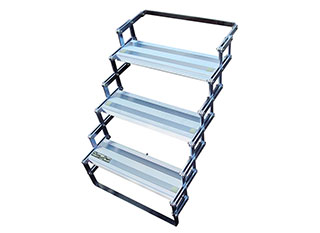 Achieve a safe and stable entry to your truck camper with the Original GlowStep system. Using its self-illuminating feature, the GlowSteps glow in the dark up to 10 hours with just five minutes of light exposure. No need to depend on battery power to light the truck camper entry steps.
GlowSteps are available ranging in two to six steps with the option to add or remove steps using our Add-a-step option. Composed of 100 percent aircraft grade aluminum and stainless steel, the rust-free steps have a unique SureGrip™ step tread to create an anti-slip surface. Engineered with a special hinge design, the truck camper steps deploy and retract with ease, yet are built to maintain longevity and durability.
The GlowSteps are extraordinarily sturdy by connecting the RV all the way to ground level. With the option of adding the All Terrain Landing Gear, the adjustable feet ensure solid placement on any type of terrain. Just like a well-constructed permanent home feature, the level of stability is simply unmatched. Imagine feeling that security everywhere your truck camper takes you. It's like planting roots each time you deploy the steps, knowing your family can safely enter and exit the camper day or night, rain or shine and worry-free.
Choose to design your GlowStep system to fit your needs. Accessories include the GlowGuide Handrail, SafeStep pet safety barriers, Dirt Destroyer shoe cleaning attachment and All Terrain Landing Gear adjustable leveling feet. The GlowStep stores easily into position and is lockable to prevent theft. This lockable step also adjusts to basement model campers, has a Legendary Lifetime Warranty and is proudly made in the USA.
Find Your Fit
GlowStep In Action
GlowStep Video
GlowStep Features
Self illuminating steps truck camper steps glow in the dark for 10 hours with only five minutes of light exposure - no batteries
Safely enter and exit your truck camper or RV after dark
SureGrip™ step tread provides no-slip surface (no grip tape)
Stores in position and lockable to prevent theft
100% aircraft grade aluminum and stainless steel
Step system accessories (Sold separately): Handrail, pet safety barriers, shoe cleaning attachment and adjustable landing gear
Stainless bolted hinges allow for easy step addition or removal (Add-A-Step Kit Part # A7501)
Exclusive: adjusts to basement model campers
Legendary Lifetime Warranty
Proudly made in the USA
Reviews
"The GlowStep is simply awesome. My wife and 5-year old are safe and secure while entering our RV at night." » Read More
How many steps do you need?
• Step 1: Load your camper in your truck bed so your measurement is accurate. If you measure your camper at a different height than intended use, your step measurement will be inaccurate.
• Step 2: Determine mounting location. You will need a flat mounting area of 1 inch tall and 20 inches wide underneath the truck camper doorway. The steps can also attach to the truck camper bumper.
• Step 3: Number of steps. Measure from the desired mounting location to the ground. Use the "Entry Height" measurement ranges on the chart below to find how many steps you need.
GlowStep Specifications
6" Deep GlowSteps with 6" x 20" Step Dimensions

Glow Step
Mounting Bracket Dimensions
Entry Height
Max Weight
Add A StepMFG Part Number: A7501
-
-
-
3 Step
MFG Part Number: A7503
21.5" wide x 8.56" deep
23.5" to 30.5"
350lbs†
4 Step
MFG Part Number: A7504
21.5" wide x 8.56" deep
31" to 38"
350lbs†
5 Step
MFG Part Number: A7505
21.5" wide x 8.56" deep
38.5" to 46"
300lbs†
6 Step
MFG Part Number: A7506
21.5" wide x 8.56" deep
46.5" to 54"
300lbs†

8" Deep GlowSteps with 8" x 20" Step Dimensions

Glow Step
Mounting Bracket Dimensions
Entry Height
Max Weight
Add A Step
MFG Part Number: A7801
-
-
-
2 Step
MFG Part Number: A7802
21.5" wide x 8.56" deep
16" to 23"
375lbs††
3 Step
MFG Part Number: A7803
21.5" wide x 8.56" deep
23.5" to 30.5"
375lbs††
4 Step
MFG Part Number: A7804
21.5" wide x 8.56" deep
31" to 38"
375lbs††
5 Step
MFG Part Number: A7805
21.5" wide x 8.56" deep
38.5" to 46"
325lbs††
6 Step
MFG Part Number: A7806
21.5" wide x 8.56" deep
46.5" to 54"
325lbs††
Footnotes:
†With use of Torklift GlowGuide. Otherwise 2-4step MAX CAP 325lbs / 5-6 MAX CAP 275lbs
††With use of Torklift GlowGuide. Otherwise 2-4step MAX CAP 350lbs / 5-6 MAX CAP 300lbs
Each 2 - 6 GlowStep Kit includes 1 Universal Surface Mounting Bracket
GlowStep Accessories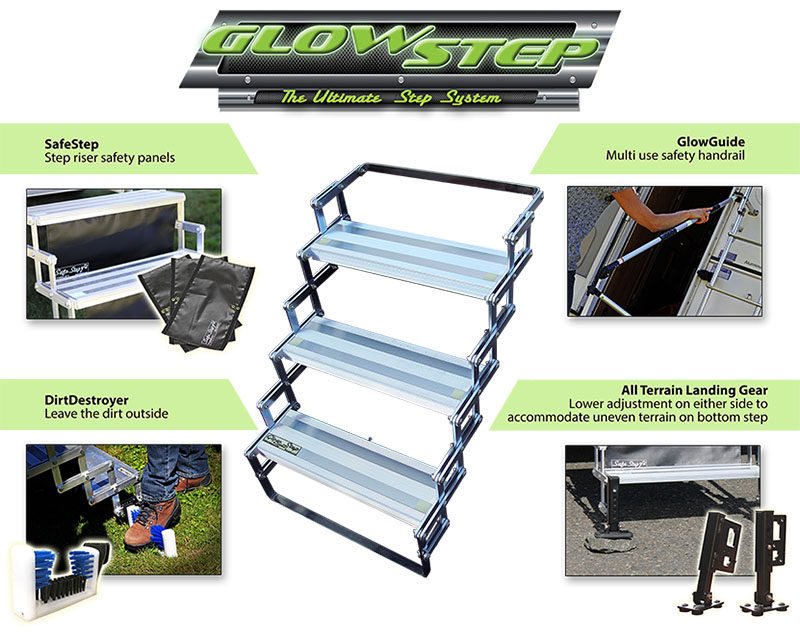 ---
---
Resources