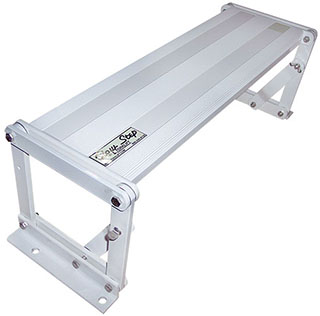 The Basement Camper Step ensures safety when entering and exiting basement model truck campers. It reduces the 14" gap commonly found between the bumper and entry door. This 8-inch tall step folds up and down, glows in the dark and is high impact powder-coated white.
The Basement Camper Step is composed of aircraft grade aluminum, has a Legendary Lifetime Warranty and is proudly made in the USA.
Find Your Part Number
Basement Camper Step A7510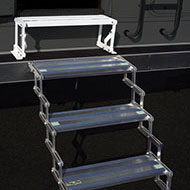 MFG Part Number:
A7510
Width:
20"
Diameter:
6"
With Step Rise:
7.8"
When Retracted:
2.25"
Basement Camper Step In Action
Basement Camper Step Features
Eliminates "step up" gap of 14" between camper bumper and entry door
Ensures safe basement model truck camper access
Works with all truck camper bumpers
Dimensions: 20"W x 6"D
Quickly folds up and down in seconds for quick basement door access
Accommodates any rear door position (left, right, center)
Easy, bolt-on installation
Powder-coated finish
Glows for up to 10 hours
Aircraft grade aluminum
Legendary Lifetime Warranty
Proudly made in the USA
Reviews
"The best feature is the substantial safety improvement entering and exiting the RV, especially for children and older RV enthusiasts. My favorite part is that is can be transported in place by folding and locking down." - Marc Grimm, Elk Grove, CA » Read More